Feasibility Article - by Tryfina Kgokong
Tryfina Kgokong, Founder and CEO of Triumphant Zoe Property, had the privilege of lecturing 4th year Property Studies Students at the University of Witwatersrand on Tuesday, 20th August 2019. The lecture was conducted with a focus on the principles and importance of feasibility studies within the Property Development sector.
The lecture outlined all the fundamental elements, parties and exercises that are essential in the carrying out of a feasibility study.
Tryfina highlighted the importance of presenting clients with feasibility studies, stating that it is a key tool in identifying the risks as well as the opportunities associated with moving forward with a potential development, and that it serves to estimate projected profit. The main concept regarding the purpose of feasibility that Tryfina relayed to the students was that the chief objective of such a study is to determine whether the project is legally, technically and financially worth the investment from the onset.
The lecture incorporated key considerations that must be taken into account when performing a feasibility study, such considerations include:
When using costs and rates from previous developments with a similar scope and magnitude as the potential development, care must be taken so as to account for escalation and changes in rates etc.
Discounted cash flow techniques should be utilised where appropriate.
Always consider time and programme constraints
Tryfina underlined the methodologies and evaluation structures used in the execution of a feasibility study. At initial stages of the feasibility, critical information about the potential development needs to be collected.
Methodological structures entail the collection of information of the following:
Site conditions
Servitudes
Zoning Policies
Environmental restrictions
Pre contract escalation
Contract escalation
ul>
The evaluation structure of the feasibility is an enumeration of all the costs associated with the construction of the development i.e. Total Capital costs, and all the costs associated with the actual operation of the development once its use is officially in effect i.e. Total Operating costs. The components of the Total Capital costs are made up of land costs, escalated construction costs, professional fees, finance costs, marketing costs and sundry legal costs. The component of the Total Operating costs are made up of local authority charges, management & rent collection, cleaning & maintenance and sinking fund costs.
A major part of the feasibility study is the extrapolation of different profitability indicators of the potential development that are determined using the above-mentioned Total Capital and Total Operating costs. These profitability indicators are used to show the client whether the development over the client's desired operating life cycle of the project, will in fact, be viable or not. Common profitability indicators that are used are: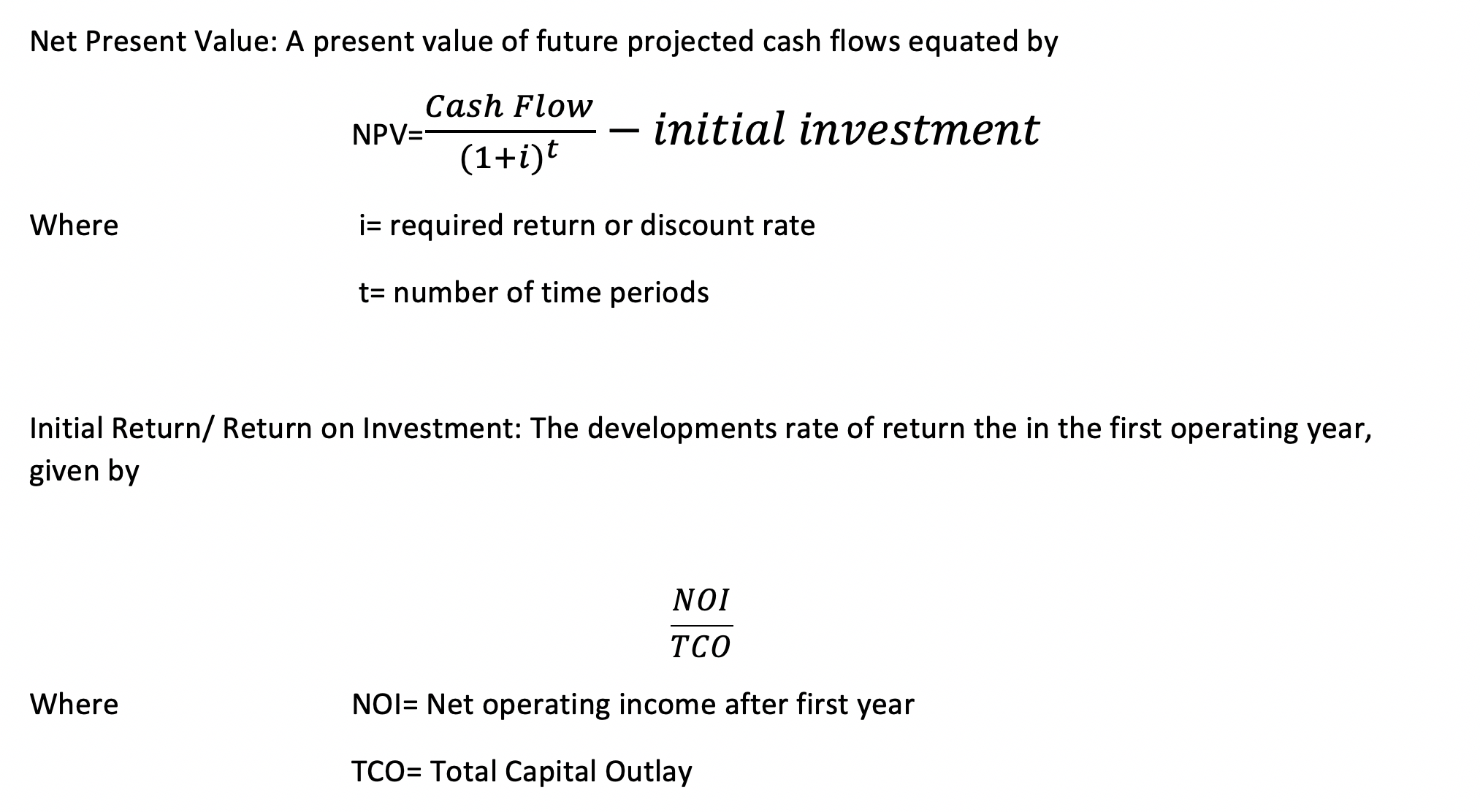 Payback Period: The time period at which the investor will get the capital back.
ul>